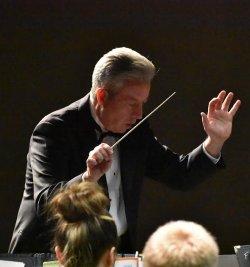 Shawn Martin is a retired Music Educator, having taught 5th-12th Grade Band for 31 years. During his career, he served as SWKMEA Jazz Chair, HS Band Chair, and District President. He is a graduate of Salina Central High School (Go Mustangs!), and Fort Hays State University (Go Tigers!) Mr. Martin is a member of Phi Mu Alpha Sinfonia and Phi Beta Mu.
Middle School Band
2022-23
Clinician
Shawn Martin
Important Dates
Oct. 2 - Audition Upload Deadline - Late entries are not possible -
$15 fee per completed audition
Oct. 10 - Judging ends
Nov. 5 - Clinic & Concert @ Dodge City MS
Audition Event Tag
Directors will need to activate the following tag in their
Festival Scores
account:
CGRH2LG
Please refer to the Chromatic Scale Examples page for PDF resources.
The unison audition excerpts are included in the SWKMEA Guidelines Notebook. For 2022-23, make sure you are using
Cycle 1
.
Cycle 1 - Even Years
Cycle 2 - Odd Years
Audio Files
Record the following audio files (mp3 format) for each audition.
Section
Audio Files
Winds and Mallets

File 1 - Chromatic Scale - 2 Octaves
File 2 - #164

Timpani

File 1 - #123 - Including tuning of 3 timpani

Snare

File 1 - #132 - Snare Drum Only Exercise
File 2 - #164
Audition Recordings
Students will audition via mp3 recording through Festival Scores. Audition recordings must be uploaded by the audition deadline.
Please fill out your student profiles as completely as you can. This is the only way the Chair can get the correct information to each school and student.
Audition material for all instruments will be taken from the Essential Technique for Band. These materials are selected on a two-year cycle.
A chromatic scale will also be played in addition to the etude. It is written out for each instrument and provided on the website.
Rules for Chromatic Scale:

Quarter note=60 played on eighth notes
Slur up, tongue down
Students must play both octaves as written in chromatic scale

Snare drum percussionists will play the exercise with a multiple bounce buzz roll. Quarter note at 120.
Timpani percussionists will record tuning the timpani followed by the exercise with no fermatas. Quarter note at 120.
Bell lyre, orchestra bells, xylophone, and the marimba are acceptable for mallet auditions. Mallet percussionists will play the same chromatic scale as listed above for wind instruments in addition to the etude. Please record the scale first followed by the etude.
Each percussion instrument audition must be on a separate recording.
No accompaniment playing with audition material.
Directors, please listen to the recordings before submitting them. In the past, background noise or incorrect recording has ruined a recording for a student.