HS Jazz Band Clinician
2022-23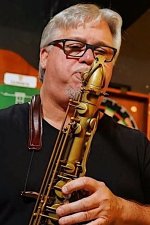 Craig Treinen
Washburn University
Craig Treinen is an Andreas Eastman Jazz and Saxophone Artist and 2015 Kansas Music Hall of Fame Inductee. He is currently the Department Chair and Director of Jazz Studies/Applied Saxophone at Washburn University. Dr. Treinen received his PhD in Curriculum and Instruction with an emphasis in Jazz Studies and his Master's Degree in Music Education from Kansas State University, and his Bachelor degrees in Music Education and Saxophone Performance from Washburn University.

In 1990, Dr. Treinen entered the United States Air Force as a Saxophone Specialist with the Heartland of America Band (formerly the USAF Strategic Air Command Band) stationed in Omaha, Nebraska. While serving he was the Principle Alto Saxophonist in the symphonic band and was the Musical Director, Staff Arranger and Lead Alto Saxophonist with the Heartland of America Band jazz ensemble the "Noteables," which he recorded and produced the album entitled "Always and Forever". In 1994, Dr. Treinen received the Air Force Commendation Medal for his solo work with the "Noteables" Jazz Ensemble and in 1995; he was awarded "Airman of the Year" and "Outstanding Airman Bandsman" from the United States Air Force. In 1996, Dr. Treinen received the "Air Force Achievement Medal" for his accomplishments directing the "Noteables" during The United States Air Force 50th anniversary World War II show, which was presented throughout the United States.

In 2000, Dr. Treinen accepted a position as the Assistant Band Director for Salina South High School and in 2001 for Wamego High School in Kansas. He has served as the artistic and education director for the Coleman Hawkins Heritage Jazz Festival and is currently chairing the education and scholarship committees for the Topeka Jazz Workshop Inc. He is also the director of the TJW youth high school jazz program in Topeka, Kansas in partnership with Washburn University.

Dr. Treinen is a highly respected jazz artist and educator. His solo work can be heard on the following recordings: "Chronicles of Carmella," by guitarist Dr. Wayne Goins, "Introducing Sean Parsons," by pianist Dr. Sean Parsons and vocalist Kevin Mahogany's CD "Big Band." Throughout his career, Dr. Treinen has performed with such legendary performers such as Lee Greenwood, Shirley Jones, Crystal Gayle, John Denver, Chip Davis, Harry Allen, Grant Stewart, Frank Mantooth, Todd Strait, Karin Allison, Kevin Mahogany, George Duke, Terrell Stafford, John Fedchock, Bobby Watson, Wycliff Gordon, Byron Stripling, Eric Marienthal, The Temptations, The Shirelles, and with big bands such as Trilogy Big Band, Tony Dipardo Big Band, Topeka Jazz Workshop Big Band, Moms Big Band, The Jimmy Dorsey Big Band, Omaha Big Band, Nebraska Jazz Orchestra, New Vintage Big Band, De Moines Big Band, Ron Capps Big Band and the River City Big Band.

Dr. Treinen served as the KMEA Jazz Education Advisor and is currently performing with the KC Boulevard Big Band, and Moon City Big Band in Kansas City, and The Wayne Goins Quartet. He continues to be an active performer and clinician providing clinics, workshops, and lectures on saxophone and jazz education throughout the United States.